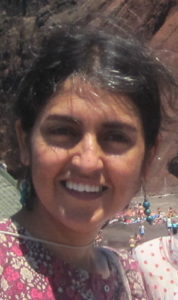 Navneet Bhullar, MD, MSc, DTM&H
Currently, Dr. Bhullar serves as a hospitalist at Geisinger Lewistown Hospital in Lewistown, Pennsylvania as well as at Lansdale Hospital, also in Pennsylvania. Dr. Bhullar grew up in different parts of India – went to 6 different schools before college as her father was an officer in the Indian army. She received her Masters in Tropical Medicine and International Health at the London School of Hygiene and Tropical Medicine and completed residency training in the Department of Internal Medicine at the University of Missouri Hospital & Clinics.
Dr. Bhullar is also WHO certified in Infectious Diseases in Humanitarian Emergencies. She served on the board of MSF-USA in 2012-2013 and also founded APAAR in Jalandhar, India- Altering Perceptions in Autism and Assisting in Rehabilitation – a non -profit to train intellectually disabled adults in self-care with pre-vocational education followed by vocational skill-building.
Her publications include: Henoch-Schonlein purpura: upper respiratory tract infection or drug-induced? Navneet Bhullar MD, Darcy Folzenlogen, MD Archives of Internal Medicine, 2001; 162: 222-223; Qayyum R, Chattha AA, Bhullar N, Katsetos M, Schulman P. Achievement of National Cholesterol Education Program Goals by Patients With Dyslipidemia in Rural Ambulatory Care Settings. Preventive Cardiology 2006; 9:192-197; and Challenges in mass drug administration for treating lymphatic filariasis in Papua, Indonesia. (MSF Belgium) Navneet Bhullar, Jacob Maikere, Parasites & Vectors 2010, 3:70. Dr. Bhullar is a MSF-USA Association member, a MSF Movement Wide Association member, and Sierra Club lifetime member. She speaks Punjabi, Hindi, English, conversational Russian and French.